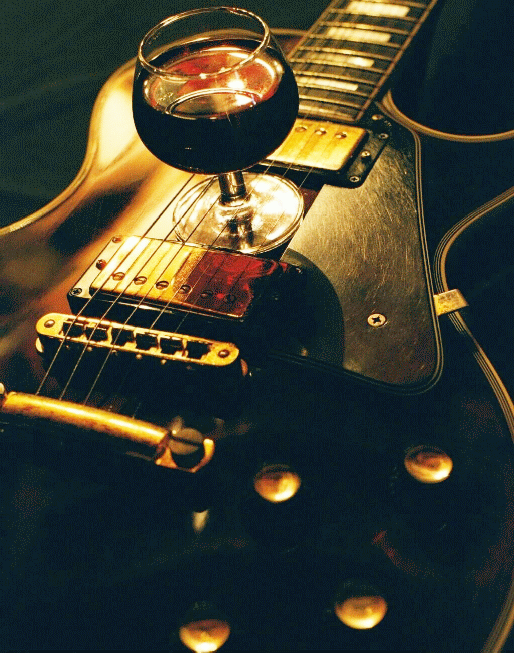 Right, I'm bored of truckers now. I'm fickle like that so let me tell you about this instead.
I went to see one of my pals the other week and we decided that it would be good to extend our appreciation of things by going to see or do something different. Step out of the cultural comfort zone or something like that. Anyway, the best thing we could find, and only because it's funny and conjures up all sorts of images, was this:
Third Stage – Chilled Guitar & Wine Tasting. 'Listen to jazz style guitar riffs and drink different wines.'
"Well I like that, it's got wine in it. Sounds odd enough," I said. "And I can get pissed if I get bored."
"It sounds ridiculous," said friend. "It would be a group of weirdo's in corduroy trousers and god knows what kind of audience would be there."
"Exactly! It has potential written all over it!" I exclaimed. "And listen to the reasoning behind it."
'Top chef – Heston Blumenthal (who is as weird as they come and makes things like broccoli flavoured ice cream) says that music can twist your tastebuds. We would like to invite you to put this to the test by listening to relaxing guitar playing and wine tasting.'
"Love it," I said. " If they hand me a nice Rioja Reserva and knock out some Eric Clapton I reckon I could be suitably twisted come 9pm."
"I don't think it's going to be like that, but OK then, lets go," friend agreed under pressure.
My pal put her fist in her mouth to stop herself laughing as I telephoned the event organisers to book tickets.
"Oh good evening," I said in my poshest voice. "I'd like to book two tickets, front row with reclining chairs and blankets, only kidding, unless you have reclining chairs and blankets?"
"No. Which event?"
"Third Stage – Chilled Guitar And Wine Tasting, please."
"Sold out."
'WHAT?" Are you kidding me? Can't you squeeze us in?"
"No. It's a very select group. Sorry." They hung up.
"Oooh, it's a very select group," I mocked to my friend. "Well that's pissed me off. I hate it when there's something I want to do and then I can't because it makes me want to do it more." I slammed my phone down on the table. It's a mobile but I still slammed it down dramatically.
"Well, why don't we do it ourselves?" friend said, pushing the Lidl food catalogue towards me. "Lets choose eight wines from the lidl catalogue and pick eight guitar tracks from YouTube and hold it here?"
I thought about that for a minute. "Cos yeah, we'd have more wine?"
"Yes."
"And I think we'd be more proficient at analysing the taste bud twisting," I said. "We can totally mix it up with a Chilean red and a Hungarian tune!"
"Absolutely, I have no doubt we can turn it into a complete head fuck."
"Which is totally expanding our mental experience which is the whole point! And it would be even MORE exclusive than theirs!" I felt a moral victory on that one.
"Totally exclusive. Already sold out," she said.
Having mental friends is very important to me as they feed my quirkiness.
We then took to organising said event with great enthusiasm.  I even thought I could maybe turn it into a career for a minute except I'd always have a hangover.  Eight wines were selected from France, Italy, South Africa, Argentina, Australia, Hungary and even England for a laugh. Eight to ten local area guitarists have been sourced and a play list arranged.
Our event is called "Upstaged- Twisted Time Wasting & Wine Tasting" which I think sounds like much more fun and takes place next Monday 14th March at 7pm. After which I shall deliver to you my verdict and list the top three wines and top three tracks that twisted the experience into a revolutionary taste sensation and blew my flipping mind.
Of course, that's if I live past the evening and don't stumble into a coma.